Laboratory Furniture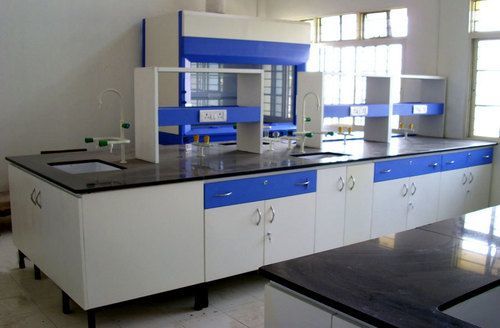 Laboratory Furniture
Price And Quantity
Pair/Pairs

50000.00 - 150000.00 INR
Product Description
Our laboratory furniture is designed to create a functional and efficient workspace that meets the unique needs of scientific and research environments. We offer a wide range of high-quality furniture solutions, including lab benches, cabinets, fume hoods, and storage systems, that are specifically engineered to enhance productivity, safety, and organization in the laboratory setting. Our laboratory furniture is built to withstand the rigorous demands of scientific work while providing comfort and durability for researchers, technicians, and professionals.
FAQ:
Q: What is laboratory furniture?
A: Laboratory furniture refers to specialized furniture designed for use in scientific and research laboratories. It includes lab benches, cabinets, fume hoods, storage systems, and other fixtures and fittings that are essential for creating a functional and safe workspace in a laboratory environment. Laboratory furniture is specifically engineered to meet the unique requirements of scientific work, including durability, chemical resistance, ergonomic design, and compatibility with laboratory equipment.
Q: Why is laboratory furniture important?
A: Laboratory furniture plays a crucial role in optimizing the functionality and efficiency of a laboratory. It provides dedicated work surfaces, storage solutions, and equipment housing, enabling researchers and technicians to perform experiments, tests, and analyses with ease. Properly designed laboratory furniture enhances workflow, improves organization, and ensures the safety of personnel and samples by offering features such as chemical-resistant surfaces, integrated ventilation systems, and ergonomic designs. It creates a productive and conducive environment for scientific excellence.
Q: What are the key considerations when choosing laboratory furniture?
A: When choosing laboratory furniture, several factors should be considered. These include the specific requirements of the laboratory, such as the type of research being conducted, the size of the workspace, and the types of equipment and chemicals being used. Other factors include durability, chemical resistance, ease of cleaning, ergonomic design, flexibility for future modifications, and compliance with safety standards and regulations. It is essential to work with a reputable supplier who can provide customized solutions that meet the specific needs of your laboratory.
Q: What types of laboratory furniture are available?
A: A wide range of laboratory furniture is available to suit different needs and applications. Common types include lab benches, which provide work surfaces for experiments and equipment placement, cabinets for storage and organization of laboratory supplies, fume hoods for controlling and ventilating hazardous fumes, and storage systems for chemicals, glassware, and other materials. Additional furniture options include lab stools, chairs, mobile carts, and specialty furniture designed for specific laboratory functions.
Contact Us
B No. D-2020, Atma Shakti Nagar, Tarapur Road, Boisar, Palghar, Maharashtra, 401504, India
Phone :+918037745026