Stainless Steel Tables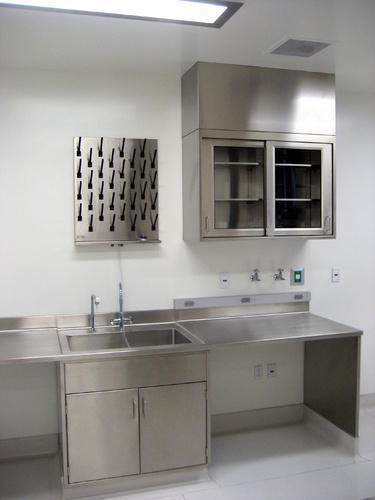 Stainless Steel Tables
Price And Quantity
Piece/Pieces

50000.00 - 500000.00 INR
Product Description
Our stainless steel tables offer a reliable and versatile solution for a wide range of applications, from commercial kitchens and food processing facilities to laboratories and industrial workspaces. Crafted from high-quality stainless steel, these tables provide a durable and hygienic surface that is resistant to corrosion, stains, and bacteria. With their sleek and professional appearance, our stainless steel tables are not only functional but also add a touch of modernity to any environment.
FAQ:
Q: What are stainless steel tables?
A: Stainless steel tables are tables designed with a surface made of stainless steel, a type of steel alloy that contains chromium for enhanced corrosion resistance. These tables are specifically engineered to provide a durable and hygienic workspace for various applications, including food preparation, laboratory work, and industrial tasks. They are constructed with stainless steel legs and frames, ensuring stability and longevity.
Q: What are the benefits of using stainless steel tables?
A: Using stainless steel tables offers several advantages. Firstly, stainless steel is highly resistant to corrosion, stains, and heat, making it a durable choice for demanding environments. It is also easy to clean and maintain, as it resists bacterial growth and is non-porous. Stainless steel tables provide a hygienic surface, crucial in food-related applications and laboratories. Additionally, stainless steel tables have a sleek and professional appearance, adding a touch of modernity to any space.
Q: Where can stainless steel tables be used?
A: Stainless steel tables can be used in a variety of settings. They are commonly found in commercial kitchens, restaurants, and food processing facilities due to their durability and hygienic properties. Stainless steel tables are also widely used in laboratories, hospitals, and healthcare facilities where cleanliness and resistance to chemicals are essential. Moreover, they are suitable for industrial workspaces, workshops, and manufacturing environments that require robust and corrosion-resistant work surfaces.
Q: Can stainless steel tables be customized?
A: Yes, stainless steel tables can be customized to meet specific requirements. Reputable suppliers often offer customization options, allowing you to tailor the table's dimensions, features, and accessories according to your needs. Customization may include selecting the table size, adding shelves or drawers for storage, incorporating sinks or splashbacks for water-related tasks, or integrating specialized features for specific applications. Working with a supplier who offers customization ensures that the stainless steel table fits your workspace perfectly.
Contact Us
B No. D-2020, Atma Shakti Nagar, Tarapur Road, Boisar, Palghar, Maharashtra, 401504, India
Phone :+918037745026